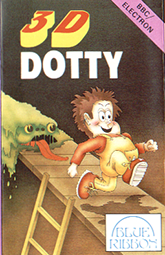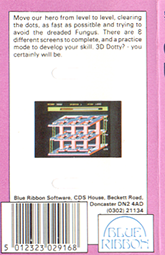 ( The complete text from inside the tape cover )
3-D DOTTY
THE GAME
Your aim is to clear the 3 levels of each screen of dots whilst avoiding the dreaded Fungus.
Any contact with the Fungus will reduce your energy and you lose a life when your energy reaches zero. On completing a screen a bonus is added to your score proportional to the amount of energy you have remaining. The Fungus can be blocked a maximum of 3 times at any one time.
There are 8 different screens. After the 8th, the screens are repeated, but your energy is reduce by 2 units when you make contact with the Fungus. You gain an extra life when your score reaches 5,000 and 10,000 points.There is a practice mode to allow you to try all 8 screens at random.
PLAYING THE GAME
Keys: Z - Left Return - Block Fungus
X - Right S/Q - Sound On/Off
: - Up Escape - Abandon Game
/ - Down
MAIL ORDER
If you have any difficulties obtained any of our Blue Ribbon range You can order directly from our mail order department Please state the name of the game. Machine and quantity required.All enclosed crossed cheques/P.O.s should be made payable do Blue Ribbon software Ltd. All orders are subject to availability. and prices are inclusive of VAT and postage.
Mail Order to: Blue Ribbon Software CDS House Beckett Road Doncaster DN2 4AD
PROGRAMMERS
We are looking for new talent to add to our programming team. This will involve either having your programs published for royalties on either our budget or full price labels (which could mean an even better deal for you), writing programs to specification or converting programs from one format to another. Write or phone NOW!
This game is sold under the condition that it shall not be RESOLD, LENT, HIRED or COPIED without written permission from Blue Ribbon Software Ltd
Screenshots